NEW shows have been added! Go check them out! CLICK HERE




Monday, September 16th -
CBF plans to end 2013 with a bang, as they prepare for a colossal 68 day fall tour that kicks off on September 18th in Halstead, KS. The tour will cover much of the southern states as well as east & west.

Wednesday, April 10th- Don't forget if you haven't registered for this year's DEVOTED 2013 Women's Conference that you still have time! "We are so stoked to be apart of Devoted 2013! Get ready for a move of God, Ladies!!" -Jordan


Latest pics from the guys out on the road!




"Hangin out with our pals at JCTV today" -Jordan




"New Mexico. Every state has it's own beauty." -Caleb




"Why isn't this in Oklahoma?" -Josh


---



March 13th, 2013 - Consumed by Fire's new music video for their song, "This is Home", is finally out! Check it out!!


---


THE WAIT IS OVER!! (Click here to buy THE FIGHT)

FEBRUARY 12th, 2013 - Consumed by Fire released their sophomore rock album entitled, THE FIGHT. The album features 14 songs all about the band's recent struggles; as they open up their hearts in an incredibly vulnerable way. The overall sound of this new record is very southern-esque. "We just embraced our roots for this one..." explains, Jordan. You can hear the band talk about the new record in various interviews that can be found on the video page. Pick up, "THE FIGHT", today at iTunes and everywhere else music is sold online!


---


February 12th, 2013 - "On the same day our new record, The Fight, releases - we're hangin in studio w/the Cash boys workin on new music.. Today is a good day :)" - If you follow, Consumed by Fire, on twitter (@cbfmusic), then you were pleasantly surprised to hear this news (along with the release of their new rock record on the SAME DAY)! CBF's long awaited worship album is finally in forward motion again. It looks 2013 is going to be a big year for Consumed by Fire and friends!


---


Monday, February 4th, 2013 - CBF announces the making of their new music video for, "THIS IS HOME". "We wanted to take the storyline in the direction of the prodigal son, but in our own way.." says Caleb, in a recent interview with the band. The video is expected to release sometime shortly after the new record drops on February 12th. Be on the lookout!


---



Saturday, February 2nd, 2013 - Check out this video performance of, "This is Home", from a recent private acoustic VIP session!


---


Thursday, January 31st, 2013 - The band recently sat down @ The Foundry with HowieBaby of 105.3FM NEW LIFE RADIO in Joplin, MO - to talk a little bit about their new record, THE FIGHT, that's getting ready to release and what's to come for, Consumed by Fire!


---
Ya ever feel like ya didn't get enough Christmas before it's over already?
Well, from now all the way til New Years Eve, this can be your anthem :)
---


CLICK THE IMAGE ABOVE TO GO STRAIGHT TO THE SONG


---

FIRESTARTERS TV INTERVIEW W/CBF -
INTERVIEW ABOUT THE NEW RECORD & MORE!


---

NEW FORTHCOMING RECORD
The Highly-Anticipated Sophomore Album from CBF, THE FIGHT.Release date TBA

---

THE FIGHT - SINGLE
The release of the band's new single/title track of their
forthcoming record entitled, THE FIGHT, became the highest selling
track ever released from Consumed by Fire, in the first 24 hours of it's release.
It is continuing to climb and see much success! buy the single on itunes!


---

NEW MUSIC VIDEO - THE FIGHT
Released Oct. 2nd on the band's social media sites.
You'll find it on many worldwide TV networks within the coming weeks!




---

AN EXCLUSIVE FIRESTARTERS TV INTERVIEW w/Ryan D.
went down at Magoo's in Tulsa, OK not long ago. Ryan D. hung out with the band
and asked them all about thier new record, road-life, personal stuff & tons more.
This interview is coming to consumedbyfire.net soon!


---
NEW FALL MERCH
1 of 3 new FALL merch designs has been released! Check it out below! They will be available for
purchase at all cbf dates and in the STORE soon!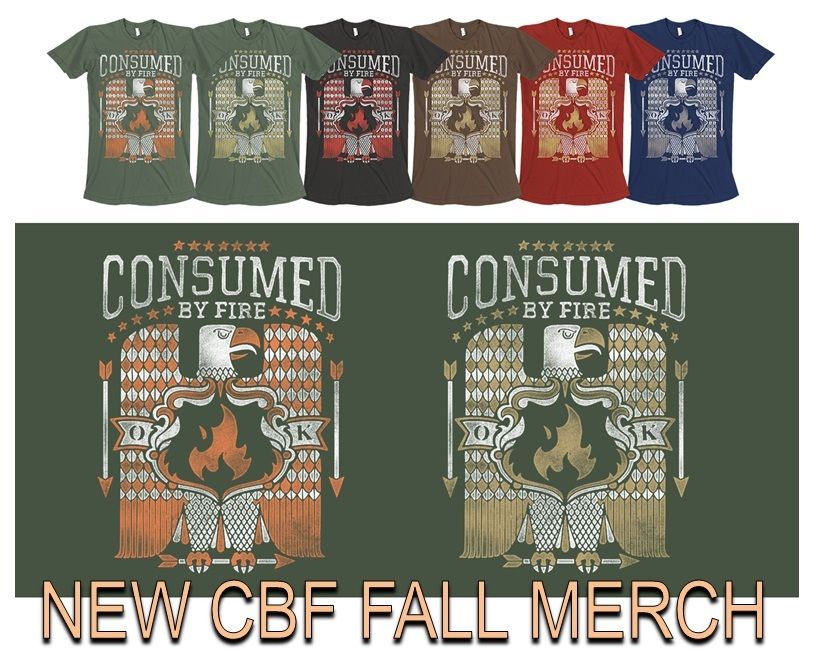 ---

Released January 10th, 2012
Featured track
Buy it on iTunes